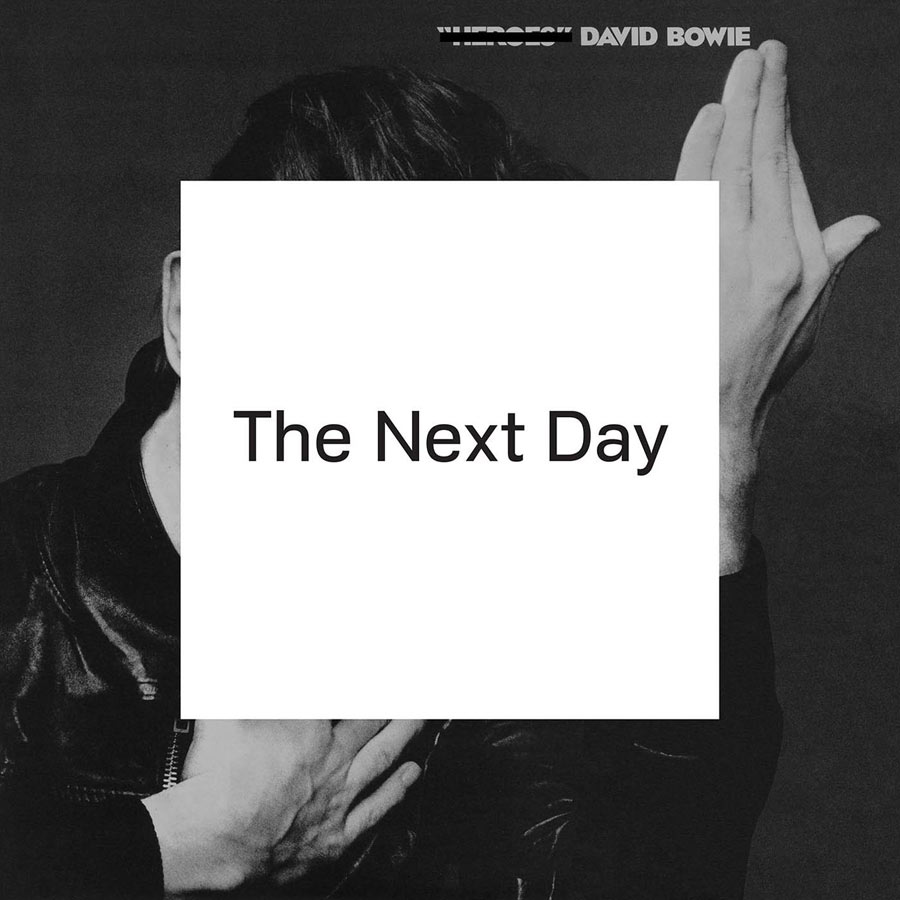 He's back! So here we are then, album number twenty-four. Released today, 11th March 2013, although those nice people at iTunes have made the album available as a streaming download for those who can't wait.
Tony Visconti is in the control room and trusted musicians Earl Slick, Gail Ann Dorsey (bass) Zachary Alford (Drums), among others' join the 'Dame' for this eagerly awaited 'comeback' album.
Leading off with the urgent title track this begins like an album that has somewhere to go and has to get there fast. Alford's drumming is the driving force behind which you can David Torn's guitar, sounding as if he is playing in the next studio. The track reminds me of 'Fashion' if only for the stylised vocals.
"Here I am
Not quite dying
My body left to rot in a hollow tree
Its branches throwing shadows
On the gallows for me
And the next day
And the next
And another day"
Second track is "Dirty Boys," - Earl Slick is on lead guitar duties but it is the baritone sax of Steve Elson that steals the show, veering between menacing and urgent pitching the song in Tom Waits 'Rain Dogs' territory there are also echoes of 'Always Crashing Someones Else's Car' from Low.
"The Stars (Are Out Tonight)" is Bowie's much publicised celebrity bashing exercise, a tale of enduring celebrity whether we want it or not, whether the celebrity in question is dead or living or is it? Is it about celebrity or the pursuing of celebrity by those who want the trappings without the responsibility. The weakest track so far on first listening, saved by a string arrangement that is straight from the back catalogue.
"Love is Lost" recalls Bowie at his simplest and most effective, he's on keyboards (and vocals), Gerry Leonard on guitar, Gail Ann Dorsey on bass and Zachary Alford on drums. The chorus stands out because it actually sounds like an old fashioned middle eight or a bridge
"Say goodbye to the thrills of life
When love was good, when love was bad,
Wave goodbye to the life without pain
Say hello, your beautiful girl."
"Where are we now?" has been discussed on this blog before and is the stand out track so far, not because of its newly found familiarity but because it sounds so familiar - if that makes sense. It sounds contemporary whilst retaining its roots in Berlin in the late 1970's, this is Jason Bourne on the roof watching Pamela Landy wondering where the hell he is.
Track six is "Valentine's Day", Bowie on vocals, Earl Slick on guitar, Visconti in bass and Sterling Campbell in drums. The tracks off with a promising Slick riff which sounds classic Bowie straightaway, the vocal is classic Ziggy era - there is a danger with Bowie having such vast and easily identifiable back catalogue that, rather than judge each track on its own merits, the tracks of a 'comeback' album have to be compared with his 'genius' periods, as if one night a decree was planted in the brains of all us amateur reviewers and bloggers. It's a beautiful track and shows that when Bowie sings within his range, rather than over reaching himself as old rock stars tend to far too often for theirs or their listeners well being, he still has it.
"If You Can See Me," is musically speaking the least Bowie like track on the album, but vocally and lyrically it couldn't be anybody else. Urgent, violent this is Bowie stating his case for making this album, he's back and he's as mad as hell - well as mad as a 66 year old who has been away for ten years can be.
With Tony Visconti such an important component of this album you wonder how much of it is going to be a homage, revisiting old musical haunts respectively putting down a musical bed to Bowie's angry old got lyrics. The track (number 9) "I'd Rather Be High" is dull, in fact it's hard to think of a Bowie track with a vocal so lacking in energy from his past catalogue, even Mick Jagger in his most obstinate conservative period (1979-2008) would surely have baulked at recording a track this turgid, which is a shame because the lyrics about the boredom of war (excepting the chorus) are good and the Gerry Leonard riff is great.
"Boss of Me", shows Bowie isn't afraid to try and reach for those high notes when he feels it's called for. Once again Steve Elson's baritone sax is the musical mouth piece that draws you in, this is 'Young Americans' territory and wouldn't have sounded out of place alongside 'Win' or 'Fascination' on that album. Some critics have suggested that this is the most 'out of of
place' track on the album and it is certainly the most obvious candidate for 'this could have been from......(fill in your album of choice)' award.
"Dancing Out in Space", restores our belief, or at least our desire to welcome this return to the music pages as a success rather than a half hearted nostalgia fest. A lifelong obsession, or fascination at least, with aliens and space couldn't be ignored on an album by a man who has given us so many space related references over the years and this sits easily alongside any song from the space cannon.
"How Does The Grass Grow?" rather bizarrely nicks its main "la la la" vocal riff from The Shadows "Apache" but it is 100% free of any Cliff Richard. This however is the most musically complex track on the album so far and it pulls off that old Morrissey/Marr track of a matching a hummable riff with some extraordinary lyrics about death, genocide and longing to turn back the clock to undo the wrongs of imperialism.
"(You will) Set The World On Fire" is what magazines used to call 'an up tempo rocker' and you can imagine that if Bowie returns to touring this will be a suitable closing track before the encores begin. Bowie told musicians who asked during the recording of the album how they would recreate certain sounds 'live' on stage that they didn't have to worry about that because he won't be playing live again. Shame.
"Oh you will set the world babe
You will set the world on fire
I can work the scene and
I can see the magazines
I can hear the nation
I can hear the nation cry
You will set the world babe
You will set the world on fire
You will set it on fire"
"You Feel So Lonely You Could Die," is "Rock n Roll Suicide" updated and is probably the moment on the album when you realise that yes, his comeback is completely vindicated. The influence, probably long forgotten by many Bowie aficionados, of Scott Walker on the songs of Bowie is evident here, these words could have been written by the man who gave us the tale of "The Amorous Humphrey Plugg" or those "Plastic Palace People" some forty five years ago.
"No one ever saw you moving through the dark
Leaving slips of paper somewhere in the park
Hidden from your friends, stealing all they knew
Love is thrown in endless rooms,
Thin vile rewards for you"
At four minutes and forty one seconds it's the longest track on an album that seems to have wanted to make its point in short, sharp, three to three and a half minute bursts.
"I can see you as a corpse hanging from a beam
I can read you like a book
I can feel you falling
I hear you moaning in your room
Oh, see if I care
Oh please, please make it soon"
"Heat", closes proceedings and if the previous track tipped its lyrical hat in the direction of a certain Mr Engel (Scott Walkers real name) then this track finds its influence in the great mans vocal phrasing, although time has not allowed Bowie to reach those low end notes any easier then he can reach those at the other end of the scale. The ominous refrain "And I tell myself, I don't know who I am," slips quietly into the ether as the album closes.
So the big questions are was it worth the wait, is it worth the admission price and will it sit easily alongside the better work in the Bowie back catalogue? Well yes, yes and time will tell.