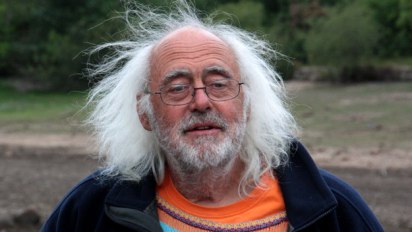 Professor Mick Aston who died today
When Channel 4 decided to launch an hour long Sunday tea-time show about a group of archaeology experts and assorted diggers presented by (Sir) Tony Robinson back in 1994 it was one of those strokey beard moments - in more ways than one.
Led by Professor Mick Aston, and accompanied by a group who were unknowns beyond the world of archaeology including Phil Harding, Francis Pryor and Carenza Lewis, the show brought the phrase 'we'll put a trench in over there' into the lexicon of well loved television phrases. Tony Robinson's role was to act as chief inquisitor, public go between and occasional mischief maker, he asked the questions those of us watching at home wanted to know as well as opening and closing each programme.
Despite its scheduling the programme made little or no attempt to treat its audience as grown-up children, whilst at the same time recognising that a little explanation would go a long way in helping make what could have been a very dry subject (no pun intended) much more accessible. Mick Aston knew instinctively that the show wasn't about him or his colleagues but about sharing his love of the subject, passing on his knowledge, the fact that he became so well known and well loved was simply a by-product of his ability to communicate, there was none of the 'look at me' style of television that now dominates the schedules.
Between 1994 and 2012, when Mick Aston left over what he perceived to be a 'dumbing down' by Channel 4 in its choice of new presenter, the three day digs covered every period of the history of the British Isles from the Palaeolithic period through to the discovery of a Spitfire in Northern France.
Like all good informative television programmes, I think Time Team helped change the way we look at and think about the world around us. Those aren't just bumps, they could be barrows, those dark circles of earth in the forest might be evidence of a round house, those lines on the field in summer an example of an iron age settlement.
Beyond the world of television Professor Mick Aston had studied geography and then archaeology at Birmingham, he had written books and papers on the subject closest to his heart as well as being Professor of Landscape Archaeology at Bristol University, leading various digs which helped us understand a little more about these islands and in 2012 he received an award for his contribution to archaeology.