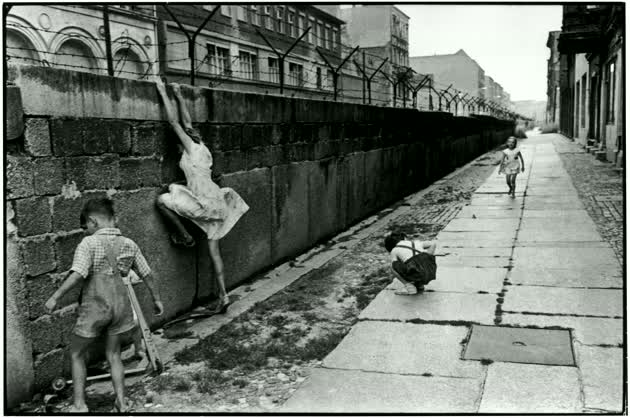 An example of the work of Henri Cartier-Bresson
Photographers generally get a bad rep in the U.K. If you say to somebody that one of your hobbies is photography you are almost certain to get some sort of nudge, nudge reaction. I don't know if it's because of British attitudes to sex or privacy or both but you can guarantee that if a soap opera needs a new plotline and have exhausted (or more likely recently used) incest, murder, alcoholism, theft or fraud then the next storyline on the list will feature a dodgy bloke with a camera. Street photography is another area where the likes of Henri Cartier-Bresson would almost certainly get some strange looks if he took out his 35mm camera on any High Street today.
It is glamour photography that attracts the biggest digs in the ribs with 'oh yeahs' and 'more naked women I suppose' reactions from those who probably harbour either repressed attitudes towards their own sexuality, have problems with the opposite sex, don't enjoy full and open relationships with their partners or can simply see through the facade and realise it's all about getting a model naked and having a good wank afterwards. Okay, the last bit was meant to be ironic.
Sometimes though you hear something or see something that makes you despair, not so much about your fellow photographers but more about the human race - again this is a pretty big statement given the huge number of people on the planet and the relatively tiny number of photographers. I've lost count of the number of comments on photo websites, where the comments can only be made by members, which consist of 'you look hot baby' or 'great body' - I accept that some women may well be flattered by this but how does it help as a critique of the photograph? Well all those comments have now been put firmly into the shade by something a model told me yesterday.
I had arranged a shoot with a model from Southampton and having picked her up we drove to the studio and waited for it to open. As an aside the studio owner hadn't arranged for the studio to be opened in his absence and the shoot was cancelled, leaving me out of pocket and hot and tired on what turned out to be the hottest day of the year. Anyway, as we sat in my car wiling away half an hour of our lives we shall never get back we started going over modelling/photography experiences. Lucy, for that is the young lady's name, told me that she had to walk out of one shoot because of the photographers attitude towards her, I didn't need to ask what it was as she was in full flow, "We were doing a topless shoot and he wanted me to have hard nipples - the thing was he wanted to suck them to get them hard. I walked out and reported his behaviour to the hosting site and he has been banned."
Personally I would have reported him to the Police as they have got better at treating sexual crimes as a priority