Sky Arts run of the first series French TV series 'Hard' (yes that is actually the French title) ended last night. Six twenty six minutre episodes are all that have been shown, to date, of this wonderfully written and acted story about a woman who, upon the death of her husband, discovers the dark family secret. The Internet transportation company that her husband and mother in law ran was in fact a front for a company that makes adult films.
What could have been tacky and cringy was actually very well acted, and conveyed the transition of Sophie (played by Natacha Lindinger above) from grieving widow through the shock of her discovery, to falling in love with the leading man (Roy the Rod) to becoming a hard nosed businesswoman who runs a company with her lawyer friend that makes films for men, women and couples that are bespoke pieces of personal art.
There were some wonderful lines throughout, one of my particular favourites was the exchange between Sophie and Roy when he is explaining how he got his nickname (after his pet hamster) and the fact that he can 'keep it up for four hours'.
The absurdity of some of the genres storylines is beautifully captured when Sophie's lawyer friend Mathilde (played by the excellent Anne Caillon) reveals that it is her fantasy to star in a porn film. She gets a part if a space fantasy where the two male leads play space lumberjacks, when Mathilde asks, not surprisingly, why lumberjacks are needed in space, she is told that there job is to cut down trees of kryptonite, when she then asks if there are any such trees she is told 'No, but there may be'.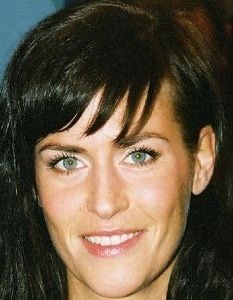 Anne Caillon
Sophie, who is actually morally against the whole idea of porn, moves from film making into pimping her actors for the woman of the town where she lives. Would be customers approach her in the steam room of the local baths and ask, "Are you frisky?" When she replies in the affirmative a brief exchange takes place where the customer explains her fantasy and Sophie reveals the cost. Unfortunately this lucrative business is closed down when Mathilde points out that pimping is actually illegal in France and that she couldn't defend her best friend/client in court. Mathilde then reveals her own idea, the making of one off films offered at a premium featuring a porn star of the customers choice, a scenario of the customers choice and of course the customer themselves.
It's not great art but it's funny, poignant and the two main female leads seem to revel in their roles.